VillaAllegra is big house made of stone and granite, located on the hill above Orta peninsula, few hundreds meters from the old village of Miasino.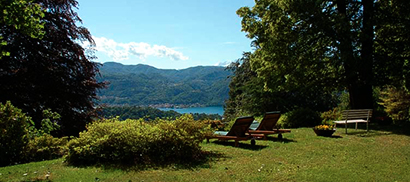 Built around 1885 by Marquis of Solaroli, the Todor-style building was used as stable of the Castle of Miasino, where he lived. It has been restored in 1990.
Surrounded by a 5,000 sqm centennial garden, Villa Allegra stands on a beautiful lawn which offers a spectacular view of Lake Orta and the surrounding greens of the hills, the deep blue waters of the lake and the white of the perpetual snows of the second highest mountain of Europe: Mount Rose.